Omio have got Good News—and a Discount to Celebrate
Autumn will soon be upon us, so we're already making exciting travel plans before Black Friday. If you're interested for a travel plan, we encourage you to try this out!
We've got some great news
Ouigo Spain is now bookable on Omio. This low-cost, high-speed rail service operates routes between top destinations such as Madrid, Barcelona, Valencia, and Zaragoza, with tickets available from as little as €9 one-way.
To celebrate the addition of another reliable Spanish transport option for your users, Omio are offering a 5% discount on trips to Spain. This could be both a Spanish domestic trip or an international trip with a destination in Spain.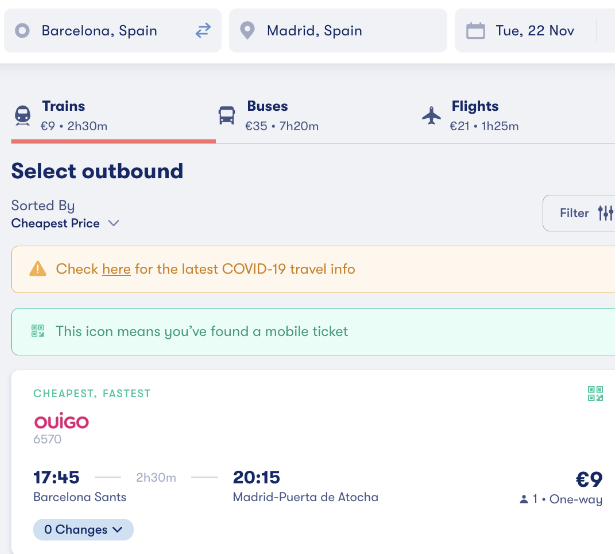 You can check the details of this 5% Omio discount below and other Omio discounts:
Terms and conditions
Code = SPAIN2022 (all capitals)
Expiration Date: October 2nd, 2022
Not valid on flights
Max discount value: 150 Euros
Limit one (1) coupon per new user and per qualifying booking. Cannot be combined, transferred or exchanged.
For full terms and conditions.
Since launching in 2013, Omio has been changing the world of travel by empowering customers to go on journeys that move them.
Whether it's getting to a bustling tourist hub such as Paris, France, or a relaxing town like Motril, Spain, Omio pioneering and practical platform helps travelers worldwide explore Europe, the United States and Canada.
Omio bring together more than 1,000 transportation providers across trains, buses, flights, ferries, cars, and airport transfers to make it easier for you to focus on what really matters: the journey. Choosing us means saving time and money while loving the journey you're on.